The first time Ben and Ania Ford visited Cabo Roig, they were so taken by the resort that they put a deposit down on a holiday home before flying back to the UK. The couple, who live in Altrincham, travelled to the Costa Blanca over Easter 2014 and even had plans to visit Portugal later in the year, to see if they'd prefer a property there.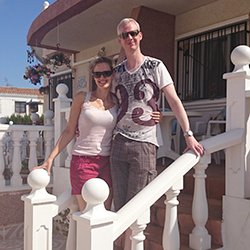 "Before we came to the Costa Blanca, on the recommendation of a friend, we'd only been to Ibiza and Mallorca in Spain," said Ben. "We were exploring places to buy a holiday home and intended to go to the Algarve later in the year. We hadn't set out to buy anywhere during our first visit, but when we arrived in Cabo Roig and saw what you can get for your money there, that soon changed."
With the help of local estate agency HomeEspaña, Ben and Ania found a quad property that was ideal for them. So they made an offer of €105,000 and had it accepted, securing it with a deposit before returning to the UK. The couple completed on their furnished three-bedroom, two-bathroom home in June, with the help of a lawyer to whom they'd assigned power of attorney, visiting for a week soon after.
"We're in a quiet residential area, with a patio, balcony on the first floor and access to a communal pool," added Ania. "Yet we're still less than 15 minutes' walk from Cabo Roig's sandy beach and marina, and just eight minutes from the bars and restaurants along the strip. We can't wait for our next trip out there in October." The Fords found the whole buying process straightforward with HomeEspaña. "Jamie from HomeEspaña was very professional and we really enjoyed our day viewing property with him," added Ben. "When we got back in touch to view property with him for the second time, we hit the jackpot. And their team was excellent at helping to coordinate all the paperwork for our sale too, while we were back in the UK."