It took just four weeks for British expats Trevor and Sheila Wickens to receive the right offer for their apartment in the Costa Blanca, which they put on the market in December 2014.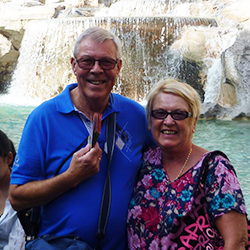 The Wickens, who live in a villa in Torrevieja, decided to sell their two-bedroom apartment in Playa Flamenca when the tenant they had there moved out. They had owned the property since 2002 and bought it initially as a holiday home.
"When the tenant moved to a downstairs property on the same complex, we decided it was time to sell," said Sheila. "We sold it fully furnished, completely kitted out and ready to move into. Within four weeks of marketing it with local estate agency HomeEspaña, we had accepted an offer of just £5,000 less than the asking price and the sale went through in February 2015."
The Wickens' old apartment was just a 10-minute walk from the beach and came with its own solarium and private garden, as well as access to two communal swimming pools.
"Everything about HomeEspaña's service stood out," said Sheila. "They marketed the property the day after valuing it and we sold it in four weeks for the price we wanted. Their after sales team were extremely helpful too."
The Wickens moved to Spain from Wiltshire in 2008, when they bought their three-bedroom villa located in a Spanish residential area. Their home boasts a solarium, terraces, and a garden with a pool, Jacuzzi and bar.
"We have beautiful views of the salt lakes and Torrevieja," added Sheila. "We love the relaxed lifestyle here, as well as the weather, al fresco dining and living near the sea."
Looking to sell your Spanish Property? Take a look at 5 reasons why you should sell with HomeEspaña – Click Here