For Martyn and Carole Gilbey, a growing family has meant the need to upsize their Costa Blanca holiday home not once but twice, each time with the help of HomeEspaña.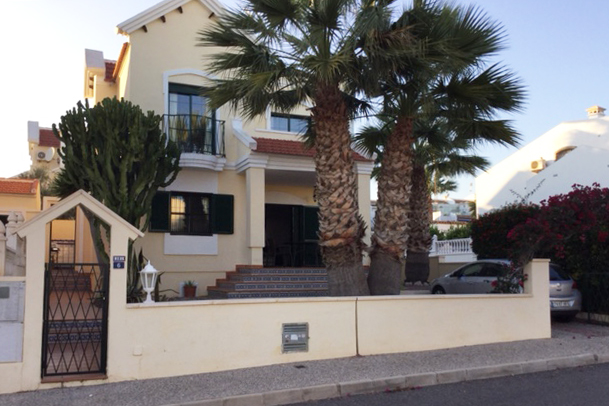 The Gilbeys from Kent completed on their villa in Los Dolses in November 2015, after selling their smaller quad property in La Zenia less than two months before. But their first property in the Costa Blanca was an apartment. HomeEspaña helped buy or sell – in one case both – each of their three properties.
"We bought a small apartment in Punta Prima off-plan in 2007," said Martyn. "But it became too small for us and our children, so we sold that in 2012 through HomeEspaña, who then helped us find and purchase our quad home in 2013."
It was during a stay at their second property in summer 2015 that the Gilbeys felt they could do with a bit more space, especially when their children and grandchildren visited the property.
"So on a whim I thought I'd test the market and asked someone from HomeEspaña to see if there would be any interest in the place," continued Martyn. "Literally, within a week they'd found a buyer. I accepted an offer of €105,000, which is the same as I paid for it, before taxes and fees, and by the end of September the sale was done and dusted."
Proceeds of the sale in the bank, the Gilbeys asked HomeEspaña to find them a detached villa. "Nick there was great," said Martyn. "He had a no-nonsense approach, wasn't at all pushy and only showed us properties that matched our specific requirements. We shortlisted two and opted for the slightly smaller of the pair, which was in Los Dolses. The sale went through smoothly, with Jane in after sales being especially helpful."
Built in 2000, the Gilbeys' detached villa has three bedrooms, two bathrooms and comes with access to a communal pool – they preferred not to have the hassle of maintaining their own pool, when they only visit intermittently.
"Carole and I are keen golfers, so we have some great courses nearby," continued Martyn. "The location is great. We're within walking distance, or a short drive, of Villamartín Plaza, with its bars and restaurants. We expect to visit four times a year, for a week or two at a time. Then our children, with their families, will visit too – they've already booked in weeks for next year!"
View Similar Properties in Villamartin