Manchester couple Harvey and Gill Simon are looking forward to sun-downers on the balcony of their new apartment in the Costa Blanca, after receiving the keys to the property in March 2015.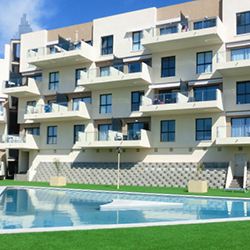 The Simons completed on their two-bedroom apartment at the smart Residencial Sabrina complex a year after reserving the property through local estate agency HomeEspaña. The purchase cost the couple approximately €170,000.
"The location is ideal, being just 10 minutes' walk from the beach, next to the shopping centre and amenities, and with a short transfer from the airport," said Harvey. "We're pleased with the build quality too. We'd wanted a new-build from the outset and feel our purchase has been great value. The balcony is huge – around 90 square metres and larger than our internal floorspace!"
The Simons began their hunt for a Spanish home in the Costa del Sol, where they'd enjoyed numerous family holidays with their two children. Unable to find what they wanted, a friend suggested the Costa Blanca.
"A client of mine let us use his apartment in Torrevieja to get to know the area, and three or four trips later we reserved our apartment. Gill had liked the area around La Manga, but we couldn't find a suitable new-build down there."
Residencial Sabrina includes a communal swimming pool, play area and gardens, as well as off-road parking, all within a gated complex. The Simons envisage visiting their apartment there at least 10 times a year.
Throughout the buying process, the couple found HomeEspaña's service excellent. "We discovered them through the internet and have been very happy with them," added Harvey. "They introduced us to a local lawyer, and helped us set up a bank account and get our NIE. And Helen in after sales was amazing. She helped organise a number of things, including new lights for the apartments and getting us a handyman."
Thinking of purchasing a New Build home in the sun? HomeEspaña has a great selection of New Build properties! You can check them out by CLICKING HERE