One couple who found their retirement home with the help of HomeEspaña during their first trip to the Costa Blanca are Stuart and Jennifer Flairclough from Kent. They completed on a three-bedroom townhouse in Villamartin at the end of March 2015 and have plans to move there. Their new property, which cost them €143,315, including fees and taxes, overlooks the fairways at Villamartin Golf and also boasts views of the Mediterranean.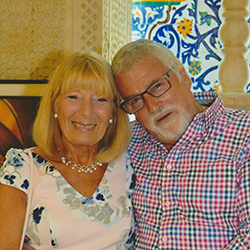 "It will be our permanent home and because of its size, we'll be able to accommodate our family and friends when they come over to visit," said Jennifer Fairclough. "We'd been researching the possibility of buying a retirement home in Spain for twelve or so months. Although we've travelled extensively in Spain, we only knew the Costa Blanca area from internet research."
The Faircloughs didn't need much convincing that the Costa Blanca was the place for them – they found and secured their townhouse during their first trip there. Continued Jennifer Fairclough: "We viewed the property with HomeEspaña during a fact finding visit in early February 2015. We viewed the property twice on the same day, fell in love with it and decided to make an offer there and then, which was accepted."
Similarly, when John and Vicki Lang from Chesterfield found their Spanish home through HomeEspaña, they were able to bring forward their plans to move to the Costa Blanca.
"We came over at Christmas 2014, just to get an idea of what we could buy at a later date," said Vicki Lang. "We've had a holiday apartment in the Costa Blanca for eight years, but as we were going to live here, we were looking for somewhere bigger. We saw a couple of properties with HomeEspaña during our visit, one of which was perfect, so we thought why wait another couple of years, let's just go for it!"
The Langs completed on their two-bedroom villa in the Los Balcones area of Torrevieja at the end of April 2015, when they also moved in. They paid €160,000 for the property, including furniture, and it comes with a large garden with orange trees and private pool.
"Our villa is only a 15-minute walk from our apartment in Los Altos, but it's in a more residential area," continued Vicki Lang. "It means though that we already have lots of friends close by, people we've met from coming here for holidays over the years. We're expecting lots of visits from friends and family – our daughter and grandchildren have already booked to come out this summer!"
HomeEspaña has an extensive selection of new-build and resale homes covering the whole of the Costa Blanca, as well as an experienced aftersales team for assisting clients, whether they're second homeowners or new residents in Spain.