Retirees Catherine Butt and Noureddine Ben Othman can't wait to swap London for a new life in the Costa Blanca, an area of Spain they fell in love with on their first visit last year.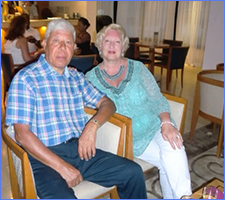 The couple have bought a semi-detached villa near Torrevieja and plan to move there permanently before the end of April 2015. "We came out to the Costa Blanca for the first time in October 2014," said Catherine. "While here we saw around seven properties with local agent HomeEspaña, who were very helpful and gave us lots of time. We quickly found the one we wanted and paid a deposit. We had looked at the Costa del Sol beforehand, having holidayed there a number of times, but couldn't find what we wanted for our budget. We're moving for lifestyle reasons, for the weather and to be able to spend more time outdoors."
Catherine and Noureddine paid €104,000, including all fees and taxes, for their property, which is in the Los Altos community. With access to a communal pool, it has three bedrooms, one of which has independent access via its own exterior staircase as well as its own bathroom, as well as a solarium.
Added Catherine: "The after sales team at HomeEspaña's La Zenia office were excellent and without their help the buying process would have been much more difficult and stressful. Everything went through very smoothly, and they kept us updated all the time and responded any queries very quickly, which gave us peace of mind."