1 Villa, 3 Happy Families!
Three Norwich families are looking forward to regular visits to the Costa Blanca, after teaming up to buy a holiday home with the help of HomeEspaña. Daniel Appleton, Jason Knights and Ian Green, all married independent financial advisors with two children, have purchased a three-bedroom villa in Villamartín together. They completed on their property in May 2016, agreeing a purchase price of €190,000, excluding fees and taxes.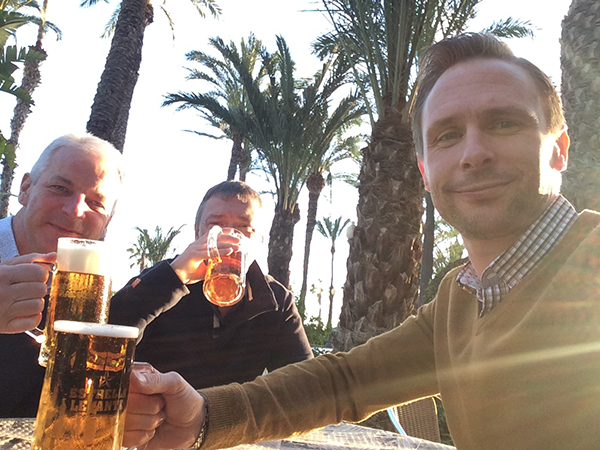 "We decided to buy a property in Spain while prices were still low," said Daniel Appleton. "We also wanted to get a mortgage offer in place before the EU Referendum in June! The three of have bought buy to lets in the UK together, but our villa is meant as a holiday home where we can come with our families, and also let friends use. Over a ten-year period we expect it to be a good investment."
Daniel, Jason and Ian, who all live and work in the Norwich area, were shown their villa by HomeEspaña during a viewing trip in February 2016.
"Andy from HomeEspaña was great and knew his stuff," continued Daniel. "He wasn't too pushy and showed us some great properties. He considered the fact that we knew a bit about financials and buying property and let us get on with it. Our offer was accepted the day we viewed the property."
HomeEspaña put the three buyers in touch with a local law firm, who assisted them the necessary documentation, as well as Home Finance, who secured a favourable euro mortgage for them. "All in all, I wish the buying process was as smooth in the UK as it was for us in Spain," added Daniel.
The three-bedroom detached villa which Daniel, Jason and Ian bought is in the El Galán area in Villamartín. South-facing, it includes a private pool, roof terrace, patio, satellite TV, WiFi and off-road parking, and came fully furnished. Supermarkets, bars and restaurants are a 10-minute walk away, while the beach and La Zania Boulevard shopping centre are both a 10-minute ride in the car.