Everyone that I have come into contact with at HomeEspaña has been friendly and extremely professional. Admittedly I had done my homework before attending viewings but the staff told me things that I hadn't considered. They also introduced me to my new Bank Manager and Lawyer in Spain, both of whom have been brilliant.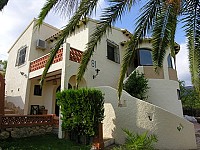 Particular thanks to Sharyn who was my first contact and whose manner and knowledge convinced me that HomeEspaña was the right choice for finding my new home in Spain. Special Thanks to Caroline for conducting the viewings and putting up with my sense of humour and to Michelle who has been fantastic.
When I set out on this journey I said to myself that I wound carry on with it as long as things kept falling into place. Thanks to the expertise and professionalism of the HomeEspaña staff, everything has proceeded without a hitch in Spain, unlike in the UK where the process was beset with more than a few difficulties.
HomeEspaña has been my perfect choice and one that I am so glad that I made. No improvements needed – keep up the good work!