Life just got better for golfers Sue and Frank Robbins: the couple moved into a house closer to their favourite golf course in the southern Costa Blanca. The Robbins' new home is a three-bedroom detached villa in Pinar de Campoverde, five minutes from the Lo Romero golf course. Until January 2015, the couple, from Bexhill in East Sussex, had lived in a three-bedroom end of terrace house in Villamartin.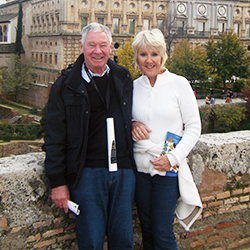 "We retired to Spain in 2002 but decided last year we wanted to move away from the busy, touristy coastal area, to somewhere quieter and not within a development," said Sue. "We already had friends in Campoverde, which is a few miles inland, and regularly play golf at nearby Lo Romero, so buying there made sense."
With the help of local estate agency HomeEspaña, the Robbins found a buyer for their Villamartin property in just two months, selling it to another British person for €158,000 in December. By the end of January, again with the assistance of HomeEspaña, they had found their new villa in Campoverde, organising the sale so they were able to move straight in from their old house.
"HomeEspaña have been so friendly and helpful, especially with the after sales service," added Sue. "They're always at the end of the phone, in fact Helen there calls us just to check everything is okay. We're very happy with our new home – it's detached and we have a larger plot, our own pool and even distant sea views!"