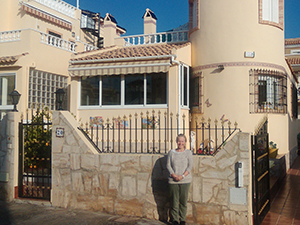 Our perfect home – they got it in one! Just one viewing with HomeEspaña was it all it took for Phil and Sandra Jones to find their ideal home in the Costa Blanca.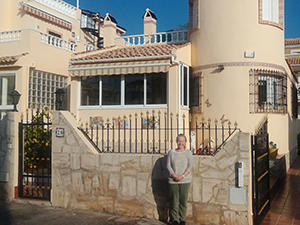 The Manchester couple received the keys to their attached villa in Playa Flamenca in November 2015, only a month after seeing the property for the first time. "We arranged to come out to Spain and view six properties with HomeEspaña in October," said Sandra. "When we visited the first property we knew we wanted it, so after seeing the remaining five we asked to go back. We met the owner and made an offer there and then, which was accepted, returning the next month to complete the purchase. HomeEspaña were brilliant, guiding us through the purchase and helping with all the paperwork, like our NIE number and opening a bank account."
The Joneses paid €146,000 for their property, excluding fees and taxes. They have two bedrooms, one bathroom, a solarium, off-road parking and lots of outdoor space, which is all tiled."We're in a gated community with access to a fenced off pool," added Sandra. "Playa Flamenca beach is only 20 minutes' walk away, and it's even less to a few bars and restaurants and the supermarket. It's perfect for us and our two adult sons, who will also use it for holidays with their children."
Phil and Sandra first met HomeEspaña at the A Place in the Sun Live exhibition in Manchester in March 2015. "HomeEspaña's communication with us after meeting at the show was excellent and they kept us informed until we were ready to view properties with them later in the year. We've since bumped into other British people in Spain who bought through them, who have been equally thrilled with the service."
HomeEspaña will be exhibiting at the next A Place in the Sun Live exhibition in Manchester, which takes place 11th-13th March 2016.