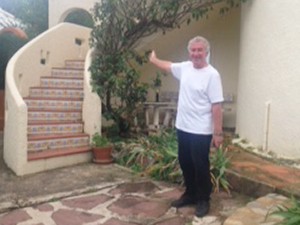 Christmas treats don't get much better than the one Paul Essex received in December 2015 – that's when he was handed the keys to his new home in the Costa Blanca!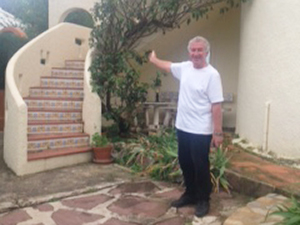 Paul completed on his three-bedroom villa through HomeEspaña, having taken early retirement and deciding 2015 was the year to move to Spain.
"I contacted HomeEspaña and arranged to view six properties in September 2015," said Paul. "It was actually my first time ever in this part of Spain! The second property I viewed was my villa in Orba, which I'd already spotted on the internet. I decided I wanted it as soon as I viewed it. HomeEspaña were great and helped me set up everything up for a smooth purchase. Not long after, the sale of my three-bed semi in Warwickshire went through, so everything fell into place for my move to Spain."
Before flying back to the UK, HomeEspaña helped Paul open a Spanish bank account, get his NIE tax number and pay a reservation deposit. They also assisted him with finding a lawyer and currency transfer company, who he used to send money to Spain from the UK.
Paul paid €170,000 for his villa, excluding fees and taxes. The property, situated on a small urbanisation, has two upstairs bedrooms, while the third bedroom is part of a self-contained apartment. It has a private pool and lovely mountain views.
"It's a great location," added Paul. "Orba is a bit more traditional than the resorts on the coast, and surrounded by greenery and mountains. The beach is still only 15-20 minutes' drive away and there's a bus to Dénia. My place is less than five minutes' walk from the centre of town, and I have a bar at the end of my road."
Even after purchasing, HomeEspaña continued to assist Paul with getting settled into his new home.
"The team at the office in Benidoleig are so friendly and nothing is too much for them," Paul continued. "They helped me find a reliable removals firm, who have been incredibly helpful, and a local builder, and even assisted me with getting a SIM card for my phone!"